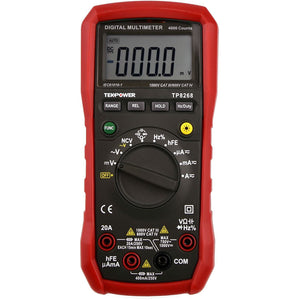 Used Tekpower TP8268 AC DC Auto/Manual Range Digital Multimeter with NCV Feature
**Used condition, there are signs of uses and scratches.**
This is a upgraded model of the MS8268 with better accuracy and more features. The new NCV (Non Contact Voltage Detection) is a great feature that let you know any voltage over 110V AC (RMS) without touch the wire. Very useful feature to find hidden wire. Auto and Manual Ranging with Relative measurement (all ranges except frequency)
For detail info, see the chart in the images.

Specifications:
1.DC Voltage:400mV-4V-40V-400V-1000V
2. AC Voltage:400mV-4V-40V-400V-750V
3. Frequency:9.99Hz-99.99Hz-999.9Hz-9.999Khz-999.9Khz-9.999MHz
4. Resistance: 400Homs-4K-49K-400K-4M-40MOhms
5. Diode: DC Current: 1mA
6. Audible Contnuity<60 Ohms
7. Transistor: hFE0-1000
8.Capacitance: 4nF-40nF-400nF-4uF-40uF-200uF
9.DC Current: 400uA-4mA-40mA-400mA-4A-20A
10. AC Current:400uA-4mA-40mA-400mA-4A-20A

Auto power off (could be disabled) & Blue LED Back-lit LCD display.