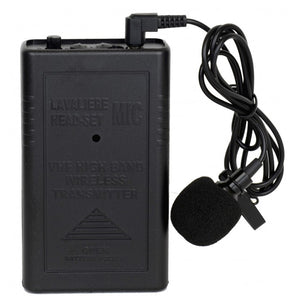 Belt Pack Transmitter for the Hisonic HS120B series HS420 and HS700 PA system
All the VHF wireless microphones used in the HS120B series, HS210, HS420 and HS700 are coming with different frequencies to avoid possible interference. Each body pack transmitter with microphone is built with a VHF transmitter, and the frequency is marked by a Number, which is on a red dot sticker put on the system and microphone.
Check the numbers that you have in your system, inside the battery compartment or on the side of the system.

When you order from this page, just select the same number as shown on your system.
(Note: Lapel mic on the picture is not included)